CONTEXT
The Portuguese coast presents a high risk of flooding, as shown by recent events (e.g. the Hercules storm in 2014), that is increasing with the sea level rise. To improve the response capability to these events, the understanding of the hazards, vulnerability and exposure of people and assets should be integrated in efficient methodologies that adequately contribute to better ways of planning and response to emergency.
OBJECTIVES
The project is structured around a scientific question that is relevant to coastal flood risk analysis: as the flooding process depends on the characteristics of the exposed territory, how to predict it in the most efficient way towards the emergency management needs?
The specific objectives of the project are:

to identify the coastal typologies affected by flooding which will support the development of an integrated risk analysis methodology;
to improve the flood prediction in different coastal typologies, through the integration of data from multiple sources;
to contribute to improve the emergency response capacity of the institutions involved in its management and the affected communities.
METODOLOGICAL APPROACH
The approach followed in the project includes a preliminary evaluation of the most critical coastal typologies in the Portuguese west coast, the most exposed to extreme events in Portugal, based on historical information. This evaluation allows the selection of an observatory that will be used as testbed for development and validation of the predictive, monitoring and data integration methodologies, and where the different dimensions of vulnerability will be evaluated. The observatory context will provide guidelines for the development of an integrated risk analysis framework, supported by different hazard scenarios vulnerability and exposure. A real-time emergency response component will also be conceptualized, taking advantage of the forecast system developed at LNEC (WIFF- http://ariel.lnec.pt/).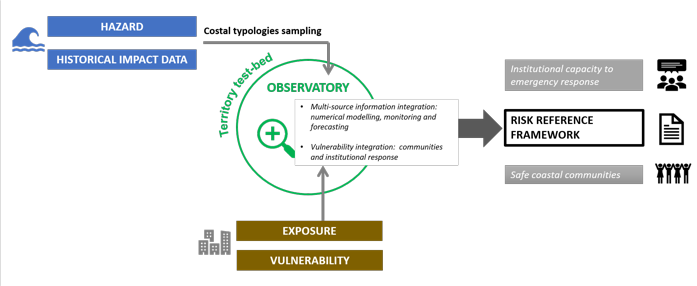 EXPECTED RESULTS
The project will contribute with innovative approaches to emergency planning and response, promoting safer and more resilient communities, in line with the key national and regional strategies and towards the Sendai Framework for Disaster Risk Reduction (2015-2030).
The main expected results are:

a database representing the historical conditions of past flood events at the West Portuguese coast;
the identification of the coastal typologies, connecting flood hazard and impacts, that characterize the West Portuguese coast;
a multi-source methodology for flood hazard prediction;
the conceptualization and operation of a real-time flood emergency system;
the assessment of communities' resilience gaps and adapted good practices; proposal of validated tools for improving preparedness, mitigation, response and rehabilitation.